Order of the Caribbean Community (OCC)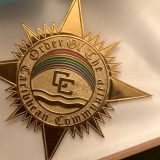 The Order of the Caribbean Community is an award given to "Caribbean nationals whose legacy in the economic, political, social and cultural metamorphoses of Caribbean society is phenomenal"
The award was initiated at the Eighth (8th) Conference of Heads of State and Governments of CARICOM in 1987 and began bestowal in 1992.
Decisions as to award are taken by the Advisory Committee for the Order of the Caribbean Community
The Insignia of the O.C.C. set in gold and the Ribbon of the Order are presented to those honoured.
Privileges and entitlements
There are some privileges and entitlements invested upon the recipients. Some of these are as follows:
The award confers the styling The Honourable upon the recipient and Post-nominals O.C.C.
Members of the Order are accorded the privilege of free movement among Member States of the Community and are issued with a travel document which is assigned similar status to a diplomatic passport.
The right to reside in and be gainfully employed in any Member State, as well as the right to acquire and dispose of property, as would citizens of Member States, are entitlements granted to Members of the Order.
CHB : CITATION FOR THE ORDER OF THE CARIBBEAN COMMUNITY 2008 George Lamming, poet, novelist, essay writer, orator, lecturer, teacher, editor and tireless activist for a new world-order and a New-World order, seems to have entered the world of Caribbean letters as an elder statesman. Born on June 8, 1927 in Carrington Village, Barbados, Lamming attended Roebuck's Boys' School from…

Read More »