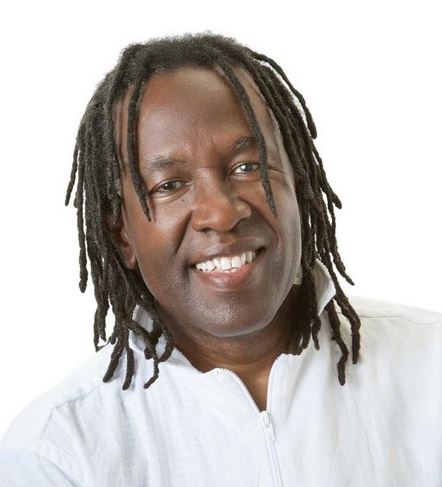 ---
David Rudder
Country:
(Trinidad and Tobago)
---
Browse Caribbean Personalities
David Rudder
---
CITATION FOR THE AWARD OF THE
ORDER OF THE CARIBBEAN COMMUNITY (OCC) TO
Mr. David Michael Rudder D. Litt. (Honoris Causa)
Can you hear a distant drum,
Bouncing on the laughter, of a melody?
And does the rhythm tell you come come come,
Does your spirt do a dance,
To this symphony?
Calypso Music,
David Michael Rudder
Dr. Gordon Rohlehr, respected academic, researcher and writer on calypso describes the artform "as a mirror that reflects, and as a lens that either magnifies or reduces the phenomena on which the nation's restless and excitable psyche feeds." Calypso emerged at a particular historical conjuncture in Trinidad and Tobago and was once considered by some to be the province only of those who belonged to a certain class. Today, due recognition and honour are accorded to an outstanding calypsonian whose music has delighted the hearts and uplifted the minds of untold millions across the world.
This living genius exploded onto the musical and social landscape of Trinidad and Tobago in the late 1970s and early 1980s, and over the decades it has become evident that his talent and impact have no limit. This master of the Artform is a proud son of Trinidad and Tobago and a giant of the Caribbean Community.
From the very first note, a Rudder song captures the soul and never lets it go. Mr. Rudder has given us the anthem that rallies West Indians near and far. He beseeched us to appreciate our neighbors and to empathize with them in their times of struggle. With his unique and timeless lyrics and melodies, he calls attention to the plight of the common man and conveys the power we wield when we 'stand up and send a message.' He strives continuously to elevate the Caribbean consciousness and gave us the key to living harmoniously in a multi-ethnic society – 'let you be you, and I'll be me'.
Mr. David Michael Rudder is the very definition of a cultural icon. A name synonymous with Caribbean pride: pride in the heritage, diversity and beauty of the peoples inhabiting these countries of our region.
Born on May 6, 1953, one of nine children, David Michael Rudder grew up in an area commonly known as Freetown in Belmont, Trinidad. His childhood seemed to map the influences that would guide his conscience and colour his music. He was baptised three times: as a Baptist by his grandmother, as an Anglican by his mother and as a Catholic in school and thus, he is amiably called Reverend David Rudder by many of his followers. He lived in close proximity to a pan yard and a Shango yard, elements that would be at the foundation of his work. Those vibrations gave us the sound that is distinctly his. Indeed, Belmont is the cradle from which many who excelled in the arts originated. Belmont was the incubator, the place where the commingling of diverse influences nurtured gifts that must be acknowledged as divine.
David Michael Rudder is the consummate creative – having interest and talent in visual arts such as painting and sculpture as well as in performing arts. He was an apprentice to the late Ken Morris, a master craftsman known for his copper work and exquisite Carnival designs.
David Michael Rudder's musical trajectory can be traced back to his participation in singing competitions at school, where at the age of nine, he was already able to enthrall audiences, confirming, for those who were paying attention, that something great was in emergence. Eventually even those who were not paying attention would find themselves riveted, transported. At the age of eleven he sang with a group called The Solutions. In 1977 he joined the pioneering calypso band, Charlie's Roots, originally as a temporary replacement for the great Christopher "Tambu" Herbert, but then he stayed on as a co-lead singer. In Charlie's Roots, Mr. Rudder demonstrated his burgeoning talent in both composing songs and performing on stage.
While earning a living as an accounts clerk at the Public Transport Service Corporation, Mr. Rudder was a very good backup singer in the calypso tent run by Lord Kitchener who is rightfully revered as "the Grandmaster." Mr. Rudder worked behind the scenes in calypso tents and studios, year after year, before his cataclysmic 1986. In that year, his album "The Hammer" smashed its way into the consciousness of our people. It gave timeless hits such as "The Hammer" and "Bahia Girl" and enabled him to be the very first artiste to capture the three major competition titles in the same year – Young King, Calypso Monarch and Road March King. One of his compositions was also used by the steel band that won the Panorama competition that year.
In the year 1992, Mr. Rudder was awarded the Trinidad and Tobago Humming Bird Silver Medal in recognition of his unfailing contribution to uplift the roots of Calypsonian culture. And in 1996, he was appointed as a Goodwill Ambassador to the United Nations Development Programme.
Through his music, Mr. Rudder has played a most significant role in exporting Trinidad and Tobago and the Caribbean to the wider world. He was also one of the pioneers of soca music, which is a prominent feature of carnivals within our region and far beyond. The band Charlie's Roots accompanied Peter Minshall's Carnival Band on Carnival Mondays and Tuesdays and Rudder's music was essential to the unique performances of the masqueraders in those costumes. Mr. Rudder has also been featured in magazines, journals and features, such as the British Sunday Observer and Guardian, the Barbados Nation, the Jamaican Gleaner, Germany's Berliner Morgenpost, the Los Angeles Times, Stern Magazine, Cosmopolitan, Billboard magazine, Class, Ebony Magazine, and Newsweek. He has performed in just about all of the historic venues across North America, Europe, and Japan. His repertoire even transcended the calypso stage into the film industry. He starred in a television drama entitled Sugar Cane Arrows, which was a pioneering Trinidad and Tobago drama aired in the United States of America. He also wrote songs for the Hollywood movie Wild Orchid.
Aside from winning prestigious awards and being featured in myriad shows and in the print media, David Michael Rudder has been studied by music critics and academics alike. In 2015, he was awarded a Doctor of Letters honoris causa by The University of the West Indies, for his outstanding works and contributions to society.
Mr. Rudder is an icon who poetically chronicled much of our region's struggles, such as the problems arising from the World Trade Organization's ruling against the concessions offered under the Lomé Convention; he also immortalized the West Indies cricket team, giving them an anthem.
David Michael Rudder was given the moniker "King David" by the Mighty Sparrow, a fitting connect to the biblical King David's acclaim as the great musician.
David Michael Rudder's, contribution has marked the people of the region. His life's work is enduring and he continues to inspire the people of the Caribbean Community to see ourselves for who we are, and to reach for what we must become.
---
« Ambassador Irwin LaRocque
Dame Billie Miller »