PARAMARIBO, Suriname, July 16, 2020 – Suriname has a new president. He is 61-year-old Chandrikapersad Santokhi head of the VHP, Progressive Reform Party who was inaugurated as president on Thursday morning. He is supported by leader of the Abop party, Ronnie Brunswijk as vice president.
Santokhi was congratulated and presented with the presidential sash by his predecessor Desi Bouterse, after Ronnie Brunswijk was installed as vice president of Suriname, and promising that the new government is for all Surinamese. There is no place for corruption in the next five years.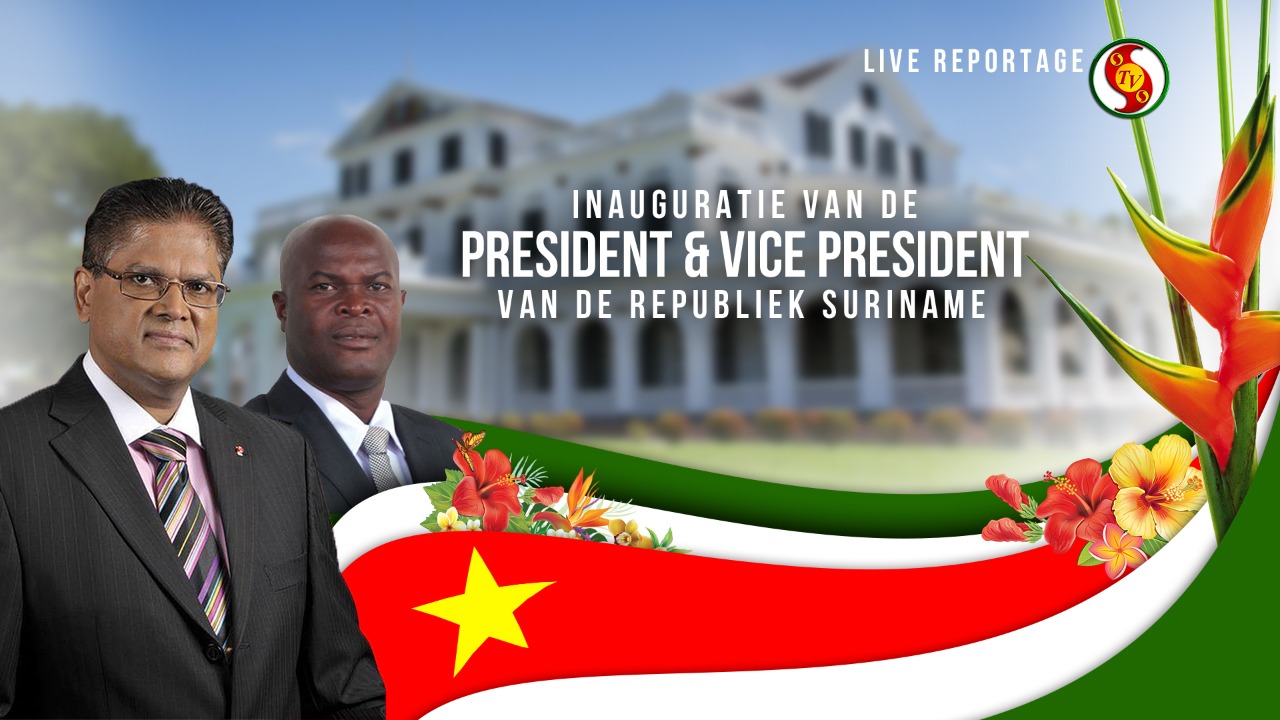 During his inaugural address, president Chan Santokhi outlined the state of the country's economy pointing out that "our country has serious problems. And you can feel that on a daily basis." Santokhi noted that Suriname was in serious financial difficulties. "The treasury is empty."
The president says that everything has become more expensive. "To live, to work; to live. Food has become more expensive, building materials have become more expensive, medicines are sometimes difficult to get, and the costs of studying are not affordable for many young people.
Bus and boat owners are waiting for their money, health workers, teachers, officials and retirees look anxiously at the end of the month to see whether their salaries have been paid. Unemployment and the housing shortage are even greater than five or ten years ago," noting that young people in particular see a gloomy future.
We must be honest and tell each other the truth, Santokhi said. "Our country is in serious financial difficulties. The treasury is empty, there is a scarcity of foreign currencies and a skyrocketing debt is hanging over our heads. Institutions that are important for good governance and for the state's income have weakened. The Central Bank, the Tax and Customs Administration, customs and even many ministries are not functioning properly. The bad financial situation has been repeatedly confirmed by rating agencies in recent years: our country has been systematically downgraded, including the beginning of this week," Santokhi exclaimed.
He said official debts were estimated at SRD 27 billion, and estimated that the actual debt burden was probably twice as high if we assume a realistic exchange rate, says Santokhi. "When we start working soon, we expect to find a larger financial gap and the exact depth of this is not yet known to us," he said.
He said while the situation was very difficult, the president says he is convinced that we are going to solve the crisis. "I have no doubt about that. I believe in the resilience of our people. I believe in the willingness to make sacrifices. We will solve it if we work together, " he concluded.
Santohki's Progressive Reform party won 20 seats in the May 25 elections, enough to form a coalition government with the General Liberation and Development Party (Abop) of Ronnie Brunswijk, who will be vice-president.
Brunswijk is a former rebel leader who fought a civil war against Bouterse in the late 1980s.
Suriname, on the north-eastern shoulder of South America, shares a border with Guyana, Brazil and French Guiana.