KEYNOTE REMARKS
ON
"KOREA-CARIBBEAN DIGITAL AND INNOVATION PARTNERSHIP IN THE POST-COVID ERA"
BY
The Secretary General
of CARICOM
Dr. Carla N. Barnett
On the occasion of
the ELEVENTH HIGH-LEVEL FORUM
On THE REPUBLIC OF KOREA-CARIBBEAN PARTNERSHIP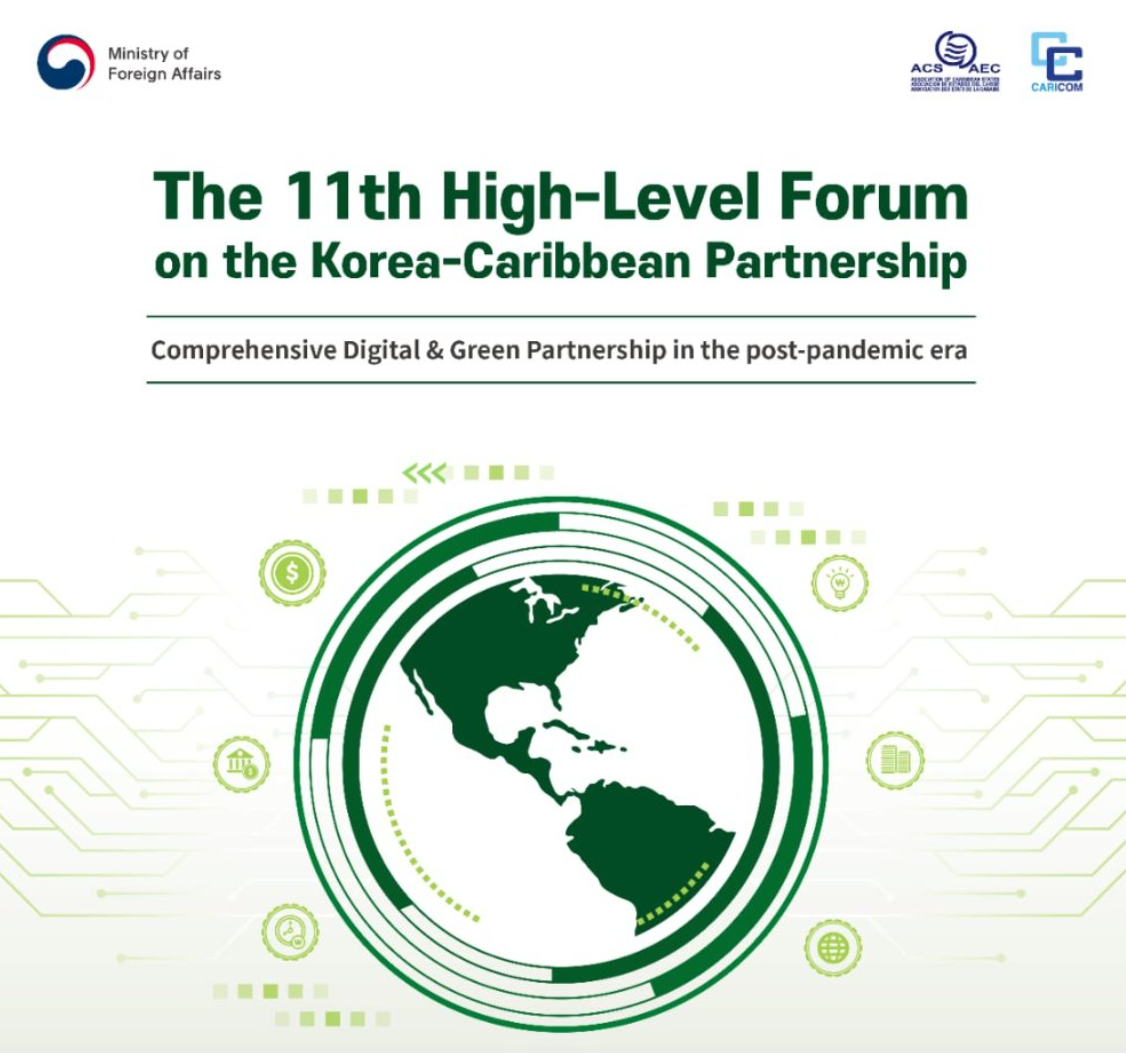 Your Excellency Choi Jong Kun, 1st Vice Minister, Ministry of Foreign Affairs of the Republic of Korea;
Honourable Ministers of CARICOM Governments and the Republic of Korea;
Your Excellency Rodolfo Sabonge, Secretary-General, Association of Caribbean States (ACS);
Distinguished Speakers and Participants;
Representatives of the Media;
Good morning. It is my pleasure to share a few thoughts with you today on "Korea-Caribbean Digital and Innovation Partnership in the post-COVID Era",
Let me begin by thanking the Republic of Korea for its continuing commitment to the Caribbean Region by working with us to keep this Forum alive for the past ten (10) years. The interest of both parties ensures that it is a sustained, mutually beneficial partnership.
Korea has been instrumental in the Development of the CARICOM E-Government Strategy and the requisite training of CARICOM Government officials on e-governance and business process re-engineering.
In reflecting and responding to the theme for this discourse, the clear assumption is that COVID-19 will be with us for some time having an impact on social and economic activity, and the functioning of the eventual post-COVID society.
The virus' decimation of much of our economies has caused us to take a renewed look at our processes in both the private and public sectors, and has put a premium on innovation and creativity. And what the past 20 months have taught us, is that to do so entails much greater utilisation of digital technology.
Digitalisation has become a key pillar of government policy, as nations globally struggle to prop up COVID-19 impacted economies. However, it brings with it, the dangers presented by the 'digital divide'. This highlights the gulf between those countries that have successfully navigated the increased use of digital technology, and those that have not and are being left behind.
Within countries, the impact is also manifesting itself particularly in the education system. In our Community for example, there are significant numbers of children without access to the internet and suitable digital devices leaving them at a severe disadvantage due to the shift to online schooling because of the pandemic.
The pandemic also fuelled a rise in technology sovereignty and on-shoring initiatives. The emergence of elements, such as a Korea Cloud and a European Cloud are causing shifts in the dominance of technology giants. CARICOM is developing a cloud strategy, both in keeping with emerging technologies, and as a critical move to protect the Region's data assets from future disasters. The Region welcomes Korea's support in developing the infrastructure.
There is no doubt that technological development is going to have a massive impact on developing country economies. The speed with which scientific and technological Innovation is taking place is unrelenting. The global marketplace is becoming more digital and businesses must evolve to stay competitive. Small and medium-sized firms in the economy are not just the major employers but the seed bed for 'disruptive' technologies and future innovation-fuelled growth.
Insufficient diffusion of new technologies has been quoted as one possible reason for weak productivity in developing countries, such as those in CARICOM over the past two decades.
Governments must be the facilitator, enabling business and consumers to adapt to the demands and opportunities of the new global economy. A forward-looking approach to resilience requires increasing the efficiency of government. There is a need for robust, reliable 24/7 hardware and software with the requisite applications to drive and maintain efficiency and effectiveness.
It is clear to us in CARICOM that we must design new strategies, which enforce the benefits of integrated solutions and engage our citizenry (both at home and in the Diaspora). These strategies cannot be implemented without the help of strategic investment partners, both domestic and foreign.
In this regard, I make the following proposals for consideration in the sessions today, and for the work programme of the Forum before our next Meeting in 2022.
I endorse Vice Minister Choi's suggestion of supporting the Caribbean Region's economic and social development through the "ROK-CARICOM Cooperation Fund". Through it, we will seek tailored cooperation projects using the "Korean New Deal".
In this regard, I wish to urge the scheduling of technical level meetings in the first and second quarters of 2022 to identify and define key research and development projects. Projects which can help the Region adopt and implement new software or platforms, and better respond to the prevailing and future needs in climate change, agriculture, healthcare, youth development, finance and government.
The projects need to focus on digital technology infusion and explore the opportunities for inter-linked sectoral interventions and outcomes.
I also urge that we begin the groundwork for launching a virtual innovation lab between CARICOM and the Republic of Korea. That would:
Focus on a portfolio of collaborative research and development projects between Korea and CARICOM for completion by 2025;
Focus on initiatives to drive innovation in CARICOM;
Support the establishment of Innovation 'hubs' with requisite technical and computing capacity in each CARICOM Country to put a 'spotlight' on innovation and provide support for youth entrepreneurship, as well as a space for inventors, entrepreneurs, individual achievers and technical experts in their fields, and super mentors.
In the Republic of Korea, CARICOM could not have a better partner in driving this transformation. The country has been ranked in the top five (5) countries in the Global Innovation Index 2021, and has distinguished itself in Digital and Government transformation.
CARICOM is ready to collaborate, having responsive governments, specialised regional agencies, informed citizenry and a large, creative, youthpopulation. With strategic, committed partners like Korea, this could drive a new paradigm and advance the sustainable development of our Community.
In closing, I wish to confirm the Region's continuing support for this Forum, and the cooperation between the countries of the Region and the Republic of Korea. My best wishes for a productive session today, and I look forward to advancing the proposals made here today made in 2022.
I thank you.