Remarks
BY THE
SECRETARY-GENERAL of
The CARIBBEAN COMMUNITY (CARICOM)
Ambassador Irwin LaRocque,
on THE OCCASION of
THE PRESENTATION OF CREDENTIALS BY
His Excellency HUGO VERBIST
Plenipotentiary Representative (Designate)
of the KINGDOM OF BELGIUM
TO THE CARIBBEAN COMMUNITY
Via videoconference
Wednesday, 23 JUNE 2021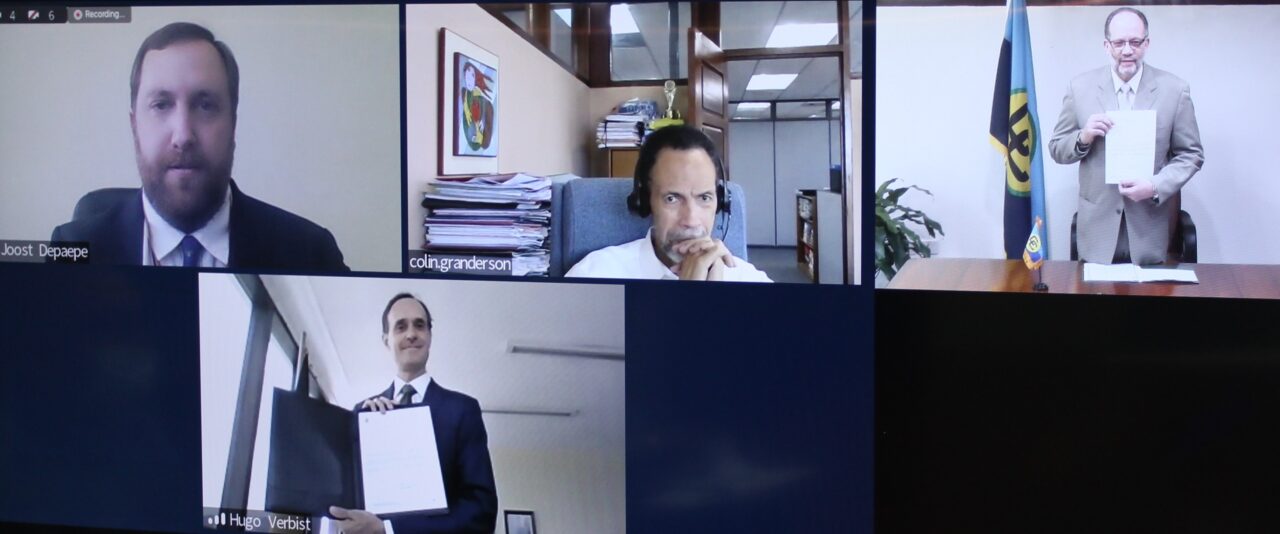 Your Excellency Hugo Verbist, Plenipotentiary Representative of the Kingdom of Belgium to the Caribbean Community (CARICOM);
Mr. Joost Depaepe, Deputy Head of Mission, Embassy of Belgium in Jamaica;
Ambassador Colin Granderson, Assistant Secretary-General, Foreign and Community Relations, and other Members of Staff of the CARICOM Secretariat.
Ambassador, I am indeed honoured to accept your Letter of Credence, and to extend congratulations on your appointment as the third Plenipotentiary Representative of the Kingdom of Belgium to the Caribbean Community.
I welcome your appointment as a meaningful step towards greater cooperation between the Community and Belgium, and I welcome the opportunity to build on existing relations between our countries.
There is scope for enhancement of our relationship which is now conducted mainly through Belgium's membership in the European Union (EU).
Ambassador, your accreditation comes at a time when Belgium and CARICOM, like the rest of the world, are grappling with the devastating effects of the COVID-19 pandemic. It has plunged countries into social and economic disaster with the widespread loss of lives and livelihoods.
May I express my condolences, and that of the Community, to the Government and people of Belgium on the significant loss of life suffered from the pandemic.
Excellency, we too in this Region have suffered loss of life, despite having been relatively successful in dealing with the health aspects of the pandemic. However, as the IMF has stated, the Caribbean is the most adversely affected Region in the world economically by the COVID-19 virus.
The tourism industry, of specific importance to us, has been amongst the sectors most significantly impacted. For CARICOM, as the most travel and tourism-dependent Region in the world, the result has been high levels of unemployment and significantly reduced Government revenues.
The matter of availability and equitable access to vaccines is, therefore, deeply urgent to us. Timely and universal access to COVID-19 vaccinations will remain a key tool for beating the pandemic and putting our economy on the path to a resilient recovery.
It is now abundantly clear to us that the stark disparity in vaccination access poses a serious risk to our recovery. CARICOM believes that more can be done by the developed countries to provide access to vaccines for developing countries.
I take due note of Belgium's contribution both in cash and vaccines. We highly appreciate the EU's contribution to the COVAX Facility. I take particular note that at the recent G20 Summit, Team Europe pledged to donate 100 million doses of vaccines to low and middle-income countries by the end of the year, in particular, through COVAX. We thank the EU for this decision.
In addition to vaccines, our economic recovery would be further bolstered by access to concessional financing from International Financial Institutions (IFIs). At present, this is denied to many of our countries due to the use of GDP per capita as the criterion for access.
Indeed, this criterion also hinders most of our countries, categorised as middle income, from benefitting from the COVAX mechanism on concessional terms. Our Community strongly believes that vulnerability must be a primary factor in determining access to concessional financing.
We would welcome the support of Belgium in using its important voice in the international community towards the development of a universal vulnerability index. This would be a more relevant criterion, especially for small vulnerable economies like ours, than that of GDP per capita.
I also hope that Belgium would lend its weight to promote greater political dialogue between the EU and CARICOM. This would help us to define our areas of similar interests and use them as a platform to broaden our cooperation into other areas.
One of these areas is the blacklisting of some of our Member States as non-cooperative tax jurisdictions. This unwarranted listing comes despite the fact that our countries have taken huge strides to ensure they meet standards certified by the relevant global authorities.
Support for a meaningful dialogue in addressing this issue is critical, given that blacklisting has caused severe reputational damage to those Member States. It results, among other things, in adversely affecting correspondent banking relationships.
Another important area for our engagement is climate change. This is a matter of an existential nature to our Community and to other Small Island and Low-lying Coastal Developing States (SIDS). The latest scientific reports indicate that global warming has already risen to 1.2 degrees Celsius, which brings it closer to the 1.5 degree mark which endangers SIDS.
Its effects include more frequent and intense storms, as well as unusually heavy rainfall and drought. At present, due to such rainfall, two of our Member States, Guyana and Suriname, have been experiencing devastating flooding which has had disastrous consequences for several communities, and the agricultural and mining sectors.
The Meteorological Office has indicated that the recent rainfall in Guyana is the highest in this period for more than 20 years.
This is happening at the onset of the annual Atlantic hurricane season, which is forecast to be very busy.
These issues assume greater significance this year, given the upcoming United Nations Climate Change Conference (COP 26) to be hosted by the United Kingdom in November. We look forward to the strong support of Belgium, and of the EU, for the positions put forward by CARICOM and other SIDS at this forum.
Excellency, it is clear that the Caribbean Community and Belgium have much to collaborate on. I look forward to continue partnering with Belgium to assist in achieving our aims, as we seek to realise our aspirations for resilience and sustainable development.
As you assume your new role as Ambassador to CARICOM, I can assure you of my support and that of the staff of the Secretariat, as we work together to strengthen the relations between CARICOM and Belgium. I can equally assure you that my successor will do the same.
Thank you.