Honourable Vincent Byron Jr., Attorney General and Minister of Justice and Legal Affairs of St. Kitts and Nevis and Chairman of the Council of Ministers of CDEMA;
Your Excellency Scott Furssedonn-Wood, British High Commissioner to Barbados and the Eastern Caribbean;
Ms. Valerie Cliff, Resident Representative, UNDP Barbados and the Eastern Caribbean;
Ms. Sharon Peake, Executive Director, Caribbean Regional Development Program, Global Affairs Canada (GAC);
Ms. Elizabeth Riley, Executive Director, CDEMA;
Participants, ladies and Gentlemen all.
Good morning.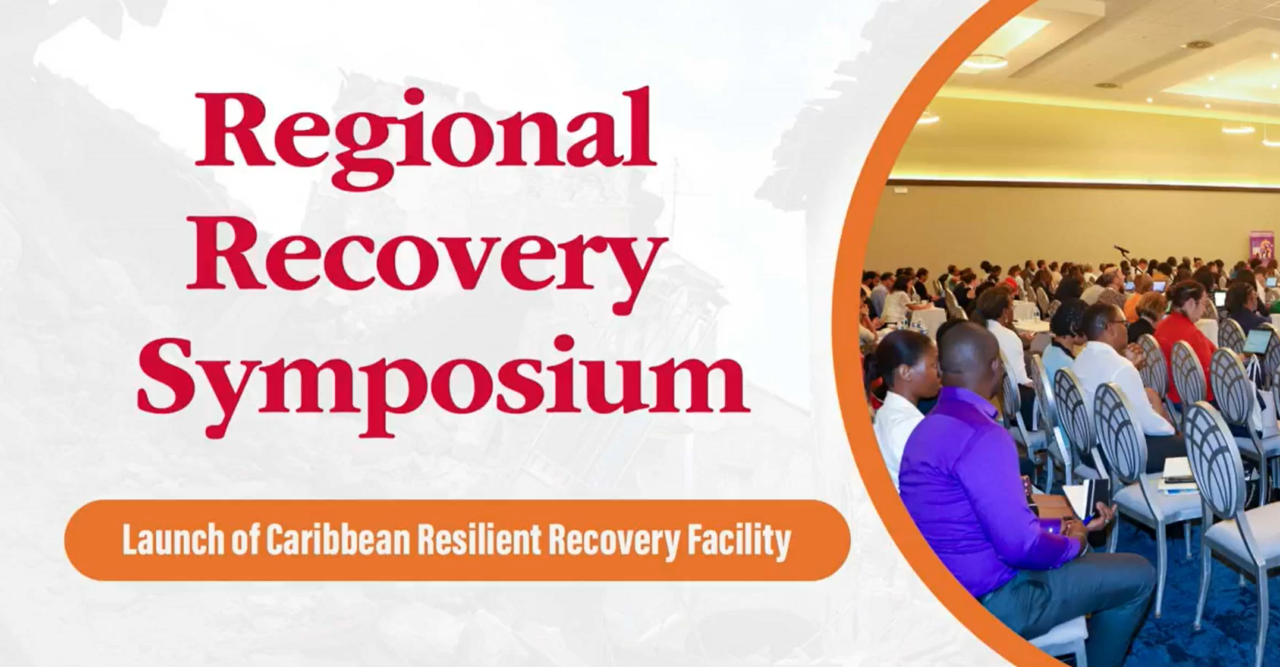 It gives me great pleasure to share a few thoughts with you at this Regional Recovery Symposium this morning. I see this as a flagship event for the Caribbean Disaster Emergency Agency, and more importantly, for the launch of the Caribbean Resilience Recovery Facility (CRRF).
As we are all aware, within the last decade, the frequency, intensity and complexity of disasters in the Caribbean have increased significantly. We have experienced the devastating impacts of Hurricanes Maria and Irma in 2017, the ongoing COVID-19 pandemic that began affecting the Caribbean in 2020, as well as the most recent eruption of the La Soufrière volcano in St. Vincent and the Grenadines and the earthquake which struck southern Haiti followed by Tropical Storm Grace in 2021.
The costs to our countries are devastating. In 2017, Hurricanes Irma and Maria caused an estimated US$1.3 billion of damage (around 224% of GDP) to Dominica and US$222 million of damage (around 9% of GDP) to Antigua and Barbuda. Given the magnitude of the disasters, the scope and cost of recovery are huge, overwhelming the capacity of individual states to cope, and require regional and international support.
It is against this backdrop that there was an imperative to develop an enabling environment for public, private and civil society sectors across the Region to collaborate and coordinate to support effective disaster recovery planning. This provided the impetus to develop and launch the Caribbean Resilience Recovery Facility (CRRF).
Resilience is a key strategic imperative for the Caribbean Community. In 2018, following the devastating 2017 Hurricane Season, CARICOM Heads of Government approved A Caribbean Pathway for Resilience for the Region around five (5) pillars:
Social Protection for the Marginal and Most Vulnerable;

Safeguarding Infrastructure;

Enhancing Economic Opportunity;

Environmental Protection; and

Operational Readiness and Recovery.
The development and establishment of the Caribbean Resilience Recovery Facility is located within the existing resilience-building framework that will allow for strengthening of the coordination of national, regional and international efforts to be more effective and sustainable.
In developing the Facility, it was noted that the United Nations (UN) International Strategy for Disaster Reduction (UNISDR) defines 'recovery' as 'the restoration and improvement where appropriate, of facilities, livelihoods and living conditions of disaster-affected communities, including efforts to reduce disaster risk factors'. As such, resilient recovery will need to be nationally driven with a focus on a comprehensive, social, economic and community-centred approach to rebuilding and the reduction of disaster risk. This will encourage planning for more resilient growth and development in the Region.
This Facility is being established as a regionally-owned and driven mechanism for the coordination of resilient recovery services to CDEMA Participating States. It will be coordinated by the CDEMA Coordinating Unit, which will also leverage partnerships with both CARICOM and international institutions with mandates of relevance to the resilient recovery agenda. It also provides an opportunity to incorporate private sector engagement and economic opportunities for the Region's small, medium and micro-enterprises.
The CRRF with its focus on:
Recovery Policy and Governance;
Strategy and Plans;
Research and Data;
Capacity for Pre and Post Disaster Recovery;
Sector Competencies;
Financing for Recovery; and
Monitoring and Evaluation.
is a ground-breaking undertaking and, I acknowledge and thank our development partners for their support, including the United Kingdom's Foreign Commonwealth and Development Office (FCDO), Global Affairs Canada and the United Nations Development Programme (UNDP). I would also like to thank the EnGENDER Project under UNDP, which has assisted with the convening of the two-day Symposium and in updating some of the national recovery frameworks.
As I close, please be assured that the Secretariat is committed to working to ensure the success of the Facility, and will continue to work with CDEMA to ensure that there is cohesion and cooperation with other regional programmes and policies in this critical area of building resilience within the Caribbean Community.
Ladies and Gentlemen, I thank you for your attention, and wish you a very productive session today.
I thank you.