Honourable Ministers of Agriculture of the Americas;
Dr. Manuel Otero, Director General and other Staff of the Inter-American Institute for Cooperation on Agriculture (IICA);
High-level Representatives of Governments;
Members of the Diplomatic Corps;
I would like to take this opportunity to thank the Inter-American Institute for Cooperation on Agriculture (IICA) for organising this side event on Digital Transformation of Agriculture during this important Food Systems Summit at the United Nations.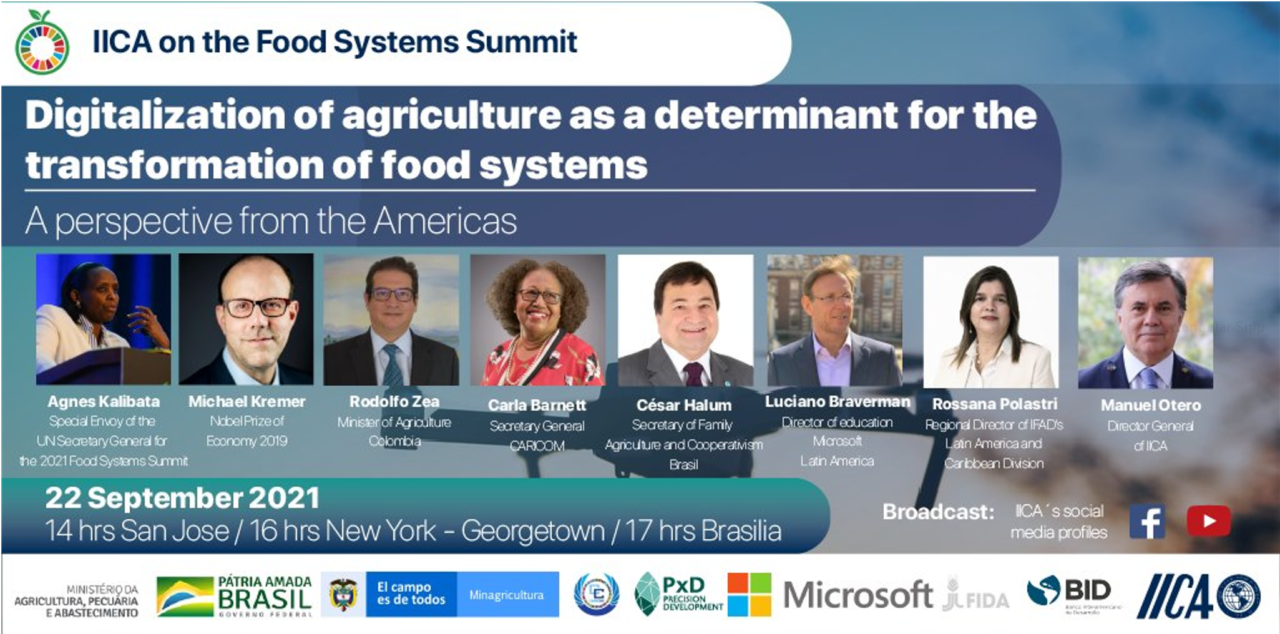 It is my pleasure to be here with you today as you discuss the opportunities, challenges, institutional models and successful experiences of digital agriculture that can be employed in the Caribbean Community (CARICOM).
This event is timely, as within the next two weeks (4-8 October 2021) we will be hosting the Caribbean Week of Agriculture 2021 (CWA2021) under the theme "Transforming our Food Systems". Certainly, the benefits of digital agriculture will form a major pillar of those activities.
Agriculture in the CARICOM Region can be significantly advanced through the adoption of digital technologies. The world as we know it is rapidly advancing, through the use of Big Data and Information and Communications Technology (ICT) which are fuelling innovations We cannot and must not be left behind.
The future of agriculture production will depend on creativity, innovation, resilience, big data, increased investments, research and development, and the removal of existing barriers to trade which will unlock the full potential of the sector.
At the more basic level, we still have to look at our land use policy, and with the increasing incidence of drought, the sustainable use and management of our water supply.
The Digital Transformation of the Region's Agricultural Sector was one of the key takeaways coming out of the CARICOM Regional Food System Dialogue which was held in May of this year.
Accordingly, there has been an increase in the birth of new digital agri-businesses in the Caribbean Region. Farmers in some Member States are eliminating the middle-man and using social media to sell their produce.
Over the last decade, the Caribbean has been successful, to varying degrees, at developing its ICT response to the shifting global economic environment, as well as the impact of climate change. New and emerging technologies are recognised as prerequisites to foster sector transformation and inclusive economic growth.
Digital technologies are being touted as increasingly crucial in advancing e-learning, and transfer of technology and innovation especially in the context of the current COVID-19 pandemic which has seen us intensifying the roll out of much needed e-solutions and e-services, in particular.
Notwithstanding the achievements by Caribbean countries in ICTs, unequal access to and use of digital technologies, particularly in rural communities.
Additionally, the global pandemic, COVID-19, has highlighted significant gaps in the usage, application, quality of service and reach of ICT to significant sectors, including agriculture.
The Region has commenced various activities towards the development of a Regional E-Agriculture Strategy. The E-Agricultural Strategy will focus on the following:
Synopsis of the current e-agriculture environment, including existing solutions, providers and initiatives;
A vision of ICT for Agriculture in terms of what improvements could be expected at country and regional levels by leveraging ICT, particularly when it comes to product specialisation, regional cooperation and enhancing foreign trade;
Recommendations to create an enabling environment for E-Agriculture, including government leadership, regulatory frameworks, and sustainable business models and workforce development, particularly for women and youth;
Identification of existing and projected high-priority E-Agriculture / ICT solutions that can achieve quick and highest impact, and which may be suitable for adaptation at the regional level; and,
An Action Plan describing activity around content development, literacy and training, infrastructure coverage requirements, platforms and applications, and access to devices.
When completed, the Regional E-Agriculture Strategy will provide the blueprint for the full roll out and transformation of the Region's digital agriculture structure and composition.
Already we are seeing some level of investment in digital agriculture in the CARICOM Region. CARICOM, therefore, is a ready and willing partner in IICA's mission of Digital Agriculture in Action (DAA), to promote digital agriculture in Latin America and the Caribbean region.