Dr Carla Barnett, Secretary-General of the Caribbean Community,
Executive Management of the CARICOM Secretariat,
Members of the Diplomatic Corps,
Other Distinguished Guests and Officials,
Brothers and Sisters of the Caribbean Community,
Good afternoon.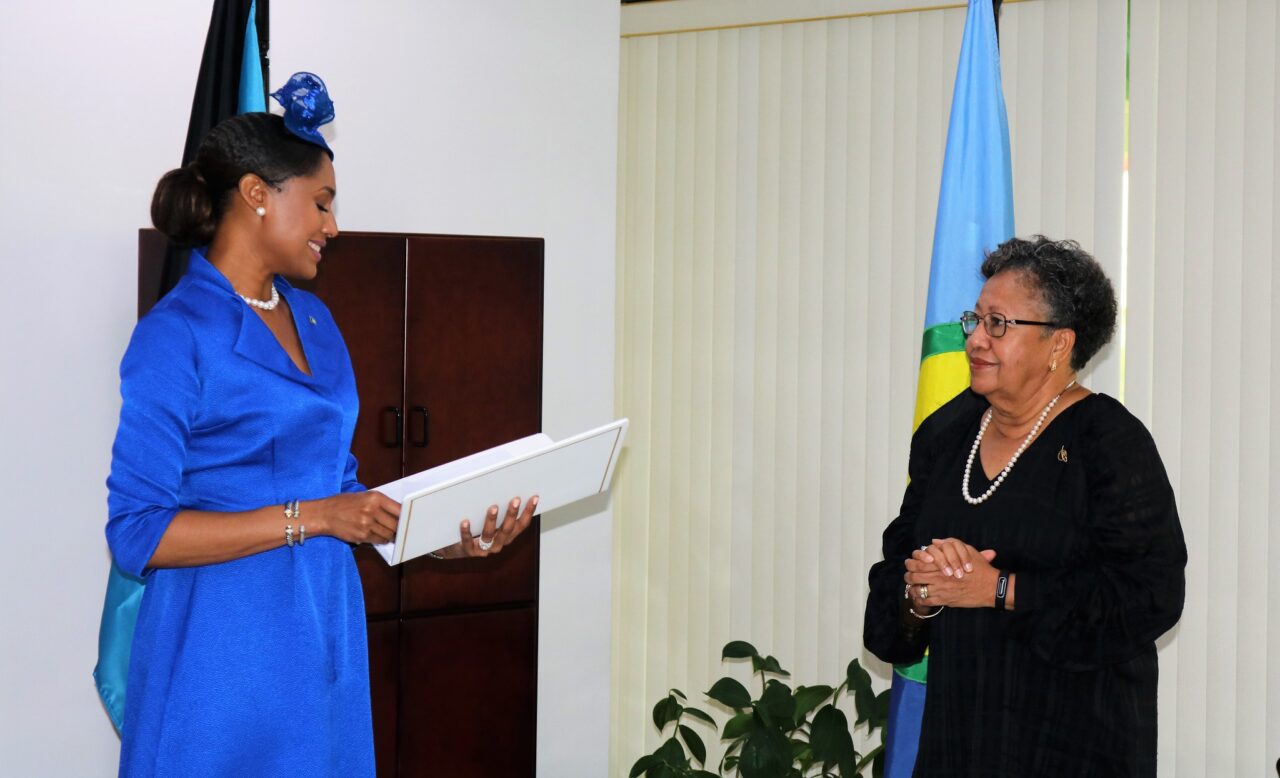 It is a pleasure to stand before you as the newly-appointed Bahamas Plenipotentiary Representative to the Caribbean Community. I am honoured to have been asked by the Prime Minister of the Commonwealth of The Bahamas to serve in this capacity. I look forward to continuing the work of multilateralism and strengthening our mutually beneficial relations.
Excellency,
I bring greetings to you and your team on behalf of the Prime Minister of the Commonwealth of The Bahamas, the Hon. Philip Edward Davis, and the Government and people of the Commonwealth of The Bahamas.
Since becoming a member of the Caribbean Community on 4th July, 1983, The Bahamas has sought to remain engaged in all organs and institutions of the Community, collaborating with other Member-States on many issues of mutual interest and the co-ordination of the Region's foreign policy.
I note with pleasure the many successes we have garnered in this regard, notable among them, the leadership role played by CARICOM in the international arena on matters such as the prevention of non-communicable diseases, combatting climate change, and the negotiations on the Arms Trade Treaty.
Please be assured that Prime Minister Davis is committed to advancing the work of CARICOM. I am equally certain that his goals, his policies and his focus towards greater political international engagement on matters related to Climate Change, Agriculture and Food Security, Development Finance and International Security will be an asset to this great organization during his tenure.
Excellency,
Although geographically The Bahamas' territorial waters do not meet the Caribbean Sea, CARICOM is and always will be family through our shared values, ideologies and common historical and ancestral roots. I am therefore pleased to affirm my commitment to excellence and service without compromise. A commitment which I must emphasise is aligned to CARICOM's mandate to promote and support a unified Caribbean Community that is inclusive, resilient, competitive; sharing in economic, social and cultural prosperity.
Excellency,
Our region is confronted with a range of daunting challenges, but we have to tackle them, both individually and collectively. The COVID-19 pandemic is the most recent and visible challenge impacting our region; however, Climate Change coupled with the many related weather events and natural disasters remain clear and present dangers for our countries. It is our acknowledgement and desire to address these challenges which have led to our concerted efforts to seek ways to diversify and build more resilient sectors of our economies, not only in the aftermath of crises, but also to explore preventive approaches to mitigating these challenges and ensuring sustainable economies for our region.
Excellency,
On a related but different matter, permit me to congratulate you on being the first female appointed as Secretary-General of CARICOM and the first female appointed as Deputy Secretary-General of CARICOM.
I look forward to working closely with you during my tenure and learning from your experiences, as I am also the first female from my country to serve in the capacity of High Commissioner to CARICOM. It is my hope that, together, we can continue to be positive role models for women throughout the Caribbean and encourage more women to serve in leadership positions. Excellency, let us continue to break barriers.
In closing, I wish to reiterate my gratitude to you and your team for your generosity in facilitating my accreditation process and for the warm hospitality extended to my delegation and me during our stay in Guyana.
May God continue to bless the Governments and peoples of the Caribbean Community.
I thank you.