REGIONAL PROGRAMME COORDINATOR ARTICLE 164 PROGRAMME OF SUPPORT MEASURES
Note:
For information on how to apply for a job at the Caribbean Community (CARICOM) Secretariat, click on
Application Process
for details.
---
Closing Date:
September 15, 2023
Type of Vacancy:
CARICOM Secretariat Vacancies
Details of the Post
The CARICOM Development Fund (CDF) wishes to recruit a Regional Programme Coordinator, under a service contract, who is an experienced business development specialist with a strong private sector background in either industrial/business development, project management, marketing or resource mobilization.
I. Position Information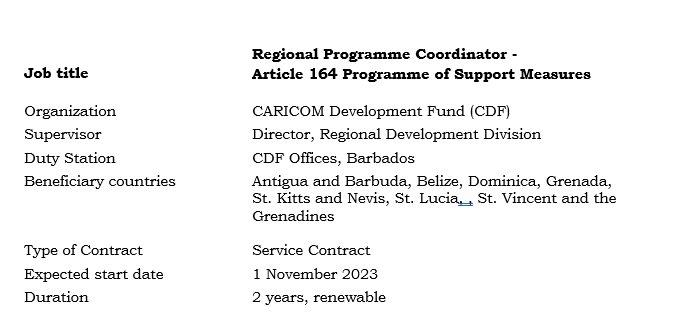 II. Organisational Context and Job Purpose
A Programme of Support Measures was approved by the 49th Meeting of the Council for Trade and Economic Development (COTED) held in Guyana on November 18-19, 2019 for industries protected by Article 164 (A164) of Chapter 7 of the Revised Treaty of Chaguaramas (RTC). The measures cover the following business areas: –
• Marketing (to include Branding, R&D);
• Sustainable Energy;
• ICT;
• Management structure and accounting systems;
• Human Resource Development;
• Production Capacity and Standards & Quality Management;
• Supply Chain Management;
• Access to Finance;
• Strategic & Business Continuity Planning (BCP);
• Enabling Policy for supporting business development
The Regional Programme Coordinator ensures the approved support measures are provided to A164 industries to make them economically viable, efficient and competitive within a liberalized market environment. The output of this service contract is an established and efficiently implemented detailed work programme and its coordinated delivery.