DPI, Guyana – The governments of Guyana and Suriname are set to collaborate on protocols that could see the return of normalcy in business and trade, even as the countries continue the tackle the ongoing Coronavirus pandemic.
President of the Cooperative Republic of Guyana, His Excellency, Mohamed Irfaan Ali, said the pandemic and the reopening of the Guyana/Suriname border, were high on the agenda of bilateral talks. Guyana's President, and Suriname's President, His Excellency, Chandrikapersad Santokhi, met today on areas of development between the two states.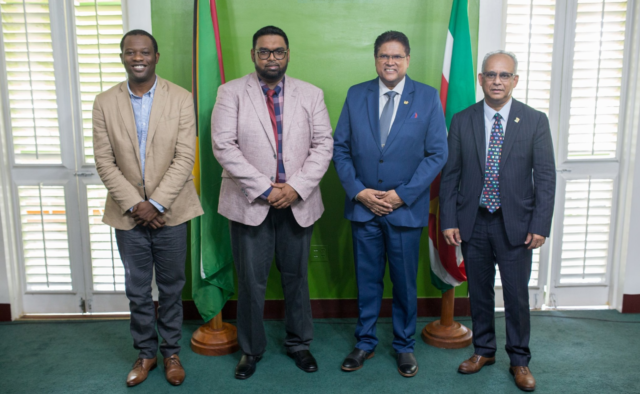 "That is why we invited the Minister of Health in the meeting, and they are to begin collaboration on the protocols and to put systems in place for our review, that we could move expeditiously to the returning in a manner that would bring back normalcy, and also in a manner that will take into consideration the reality of the pandemic, and ensuring the structures and systems are there to support decisions that will be made."
The Guyana/Suriname border was closed back in early April as part of efforts to contain the spread of the Coronavirus.
The two countries had later implemented measures to ensure that residents of their respective riverine communities could commute and conduct their businesses safely.