Mr. Regis Chapman, Representative and Country Director, United Nations World Food Programme;
Mr. Alick Lazare, Co-Founder of CERES Agriculture Application, Dominica;
Mr. Joseph Cox, Assistant Secretary-General, Economic Integration, Innovation and Development, CARICOM Secretariat;
Other Members of Staff of the CARICOM Secretariat;
Young People of the Region.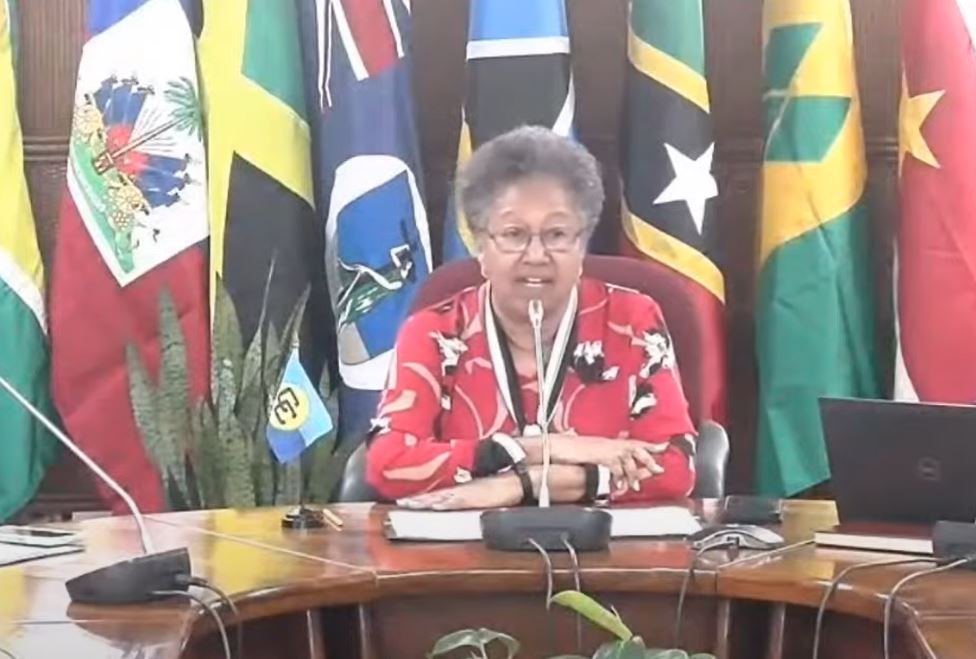 It is indeed a pleasure to be here to participate in the Launch of "I AM AGRICULTURE", a CARICOM Secretariat and World Food Programme (WFP) initiative. I am fascinated by the stories that I have heard so far and looking forward to visit Ms Elliot when I am in St Kitts and Nevis next week.
The efforts of World Food Programme and all the other partners and agri-entrepreneurs who have worked to make this a reality, are much appreciated.
As I address the youth, in particular, this afternoon, I wonder how many of you would answer the questions 'What do you want to do when you grow up? How do you want to make your living?' by saying "farming". How often in the career guidance workshops that are held at your schools, are you addressed by farmers, agri-technicians, agri-entrepreneurs, including agro-processors? I suspect that will not be too often!
Let us look at some basic facts. The average age of farmers in the Region is estimated to be between 50 years to 60 years, with not enough young farmers coming in to replace old farmers so asto sustain the Region's agricultural sector. This is one of the things that we must change if the Region is to be food secure, and also strengthen its economic and trade prospects.
As it stands now in our Region, young people constitute a section of the society with the highest levels of unemployment and food insecurity. However, like the agriculture sector, the youth possess untapped potential. Their capacities for creative economic activity are not fully realized when opportunities are limited.
Facilitating youth participation in the agriculture sector will provide much needed employment opportunities and will also help to drive innovation and growth. And of course the resulting benefit to our individual countries and to our Community will also grow.
We can be optimistic since the agri-food sector possesses significant development potential not only to generate ample, decent and gainful opportunities for our youth, but also as an avenue to unleash their entrepreneurial spirit.
A coordinated response to increasing youth access to and involvement in the agri-food sector is a priority now. Sustainable development of our agriculture sector, including innovations to increase agricultural productivity demand that young people must play a pivotal role in ensuring a food-secure future for the Region.
In order to effect a true change to youth engagement in agriculture, a rethinking, a paradigm shift is taking place in how we view and engage with youth. Our young people are competent and capable individuals who can expand their contribution to society and can, if allowed, think, develop and act in ways that can engender serious and positive change.
Our young people are the key to the total transformation of the Region's agri-food system. Fundamental to this transformation, is the embrace of digital innovation in agriculture which can lead to a range of new high-demand and highly paid agriculture professions in areas such as smart agriculture, online platforms, extension and marketing applications, GIS and drone technology, and agriculture data analytics just to name a few.
These are areas that are calling on our youth, who already have an easy affinity with technology, to take advantage of the opportunities presented. I urge you, the youth, to become involved in this dynamic new agriculture in our Community.
I am aware that the challenges faced by young women and men trying to engage in agriculture, and earn a living in rural areas are many. The solutions will not come easily. There are no silver bullets. We in the CARICOM Region have started by putting policy into action.
We recognize, however, that this will require young people to have access to the resources necessary to become fully empowered and equipped to be able to play their part.
Today, we are again committing to putting action into policy. As Secretary-General, it is one of my priorities to change the landscape of our regional agriculture and agri-food systems, placing a greater focus on technology, investment and youth engagement.
This "I AM AGRICULTURE", youth in agriculture initiative is one such deliberate move. This Launch publicly demonstrates our commitment as a Region to support youth participation in the transformation of the regional agriculture sector.
We are also pleased to announce that we have just recently established a Youth in Agriculture Council, with the sole objective of providing a structured path for youth participation in the Region's 25% by 2025 regional food bill reduction initiative.
This Advisory Council is made up of young farmers from across all 15 Member States and five Associate Members. We are truly excited by this initiative, and look forward to the Council being an active partner in the Region's drive to achieving food and nutrition security.
We thank the World Food Programme for collaborating with us on this youth-centered "I Am Agriculture" campaign. Such partnerships will be instrumental in assisting us to achieving our goals for a sector on which we place the highest priority as a major factor in building our economies, and transforming our Region to becoming food and nutrition secure.
The impressive videos of our youth in agriculture present powerful examples that we trust will encourage your peers to get involved in agriculture.
We are in exciting times for CARICOM as we roll out our various food security initiatives. You now have the opportunity to be the drivers of the Region's agricultural future. We are counting on you!
I thank you!
See full ceremony: