The programme on capacity building related to Multilateral Environmental Agreements (MEAs) in the African, Caribbean, and Pacific (ACP) countries resulted from a partnership between the European Commission (EC), the Secretariat of the African, Caribbean and Pacific Group of States (ACP Secretariat), and the United Nations Environment Programme (UNEP). The aim of this Programme is to empower key stakeholders to address environmental challenges and to reap the benefits of improved environmental management at the national and regional levels. Learn more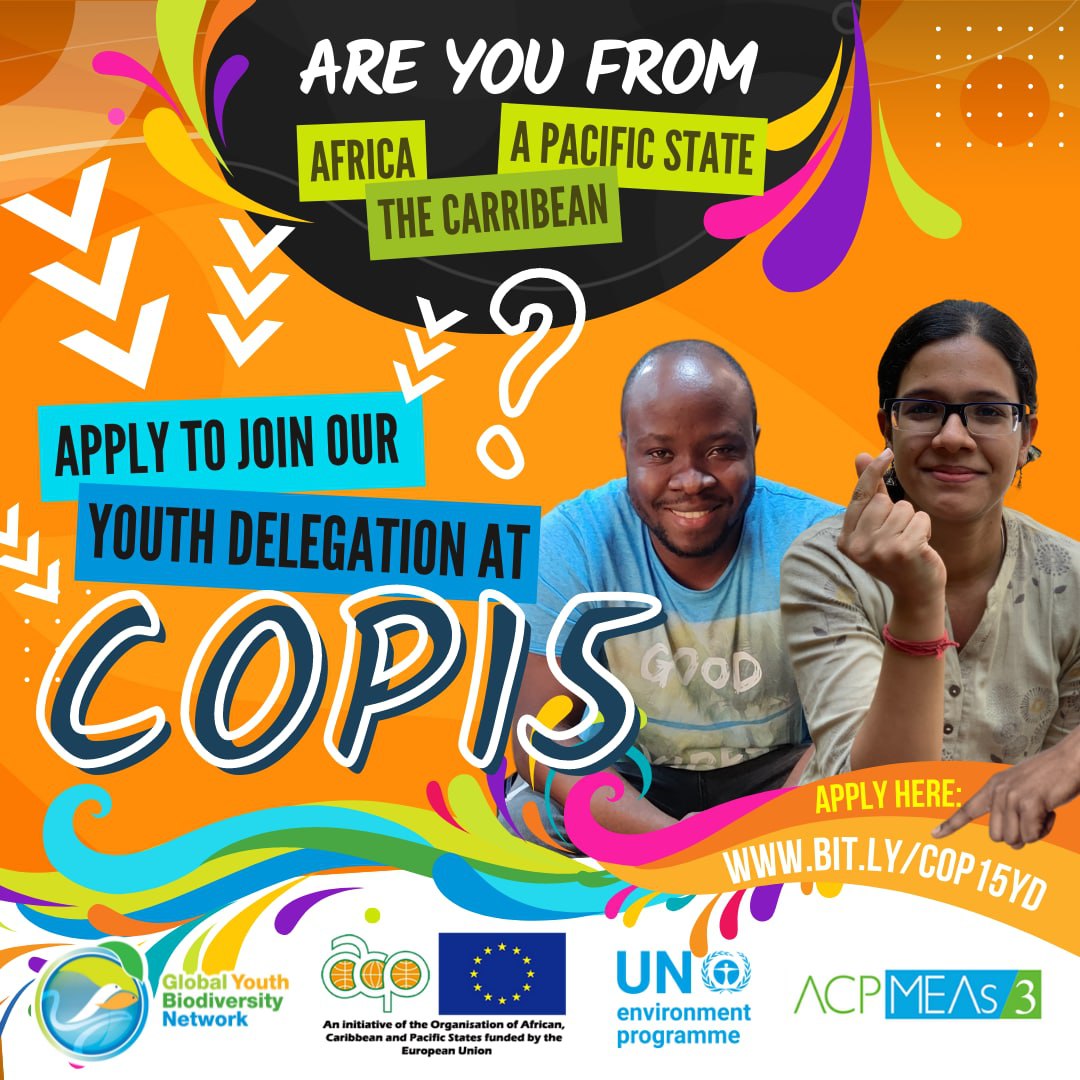 Apply to be part of the GYBN youth delegation for COP15
Are you a young person from the Caribbean, Africa, or from a Pacific state?

👉🏻Apply to be part of the GYBN Youth delegation for COP15!

Fill out the following form for a chance to join our team in Montreal in December 2022!
apply here www.bit.ly/COP15YD

This is a unique opportunity to make youth voices heard at this UN Biodiversity Conference!
Publications/ Fact Sheets / Briefs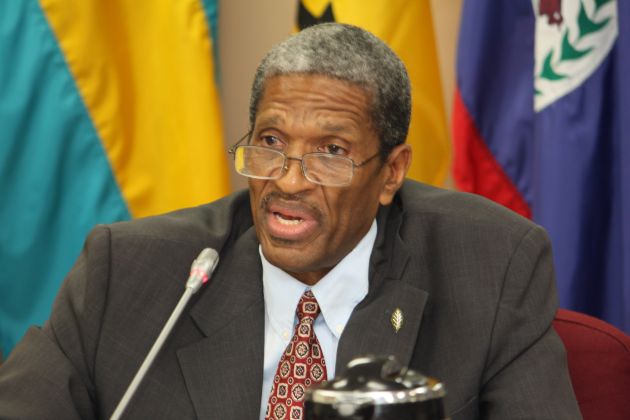 The Caribbean Hub of the Project for Capacity Building related to Multilateral Environmental Agreements (MEAs) in African, Caribbean and Pacific (ACP) countries was established within the CARICOM Secretariat in 2009. This initiative, funded by the European Union (EU) and supported by the Organisation of African, Caribbean and Pacific States (OACPS) and UN Environment, now in its third phase, has made significant strides towards strengthening and enhancing the capacity of Caribbean ACP countries to effectively implement environmental agreements and their related commitments in the chemicals and waste and biodiversity clusters of MEAs. Read more
Press Releases / In the Media
March 4, 2023 marked a historic moment for the world's ocean. After a marathon of intense, sometimes overnight negotiations, Member States of the United Nations agreed on the provisions of a treaty on the conservation and sustainable use of marine biodiversity of areas beyond national jurisdiction (the ocean biodiversity treaty). With this treaty, a new chapter for equity in the world's ocean has begun. Almost two decades ago, small island developing states drew the international community's attention to the governance gap for the ocean areas beyond national jurisdiction and the lack of any comprehensive regime to adequately regulate human activities in those areas. That gap posed a direct or indirect threat to the health of the marine environment including marine biodiversity with knock on impacts for coastal nations and the planet. They also pointed to the inequitable use of these areas which SIDS consider to be the common heritage of humankind. From 2004 to 2015, together with other developing countries and the support of non governmental organizations, the SIDS led efforts to make the case for a new treaty. By 2018, that case was filed and an intergovernmental conference convened with a view to adopt a first ever ocean biodiversity treaty. From the outset, CARICOM demonstrated its leadership in the process with the region's representatives serving in different roles from the phases of the Preparatory Committee that determined the elements of the treaty, through to the five sessions of the Intergovernmental Conference that finalized the treaty itself. More importantly, its political leaders demonstrated the highest level of support for the conclusion of an ambitious framework for the conservation and sustainable use of marine biological diversity of areas beyond national jurisdiction, with a view to enabling equity and effectiveness. In a final statement ahead of the fifth intergovernmental conference, CARICOM Leaders declared their support for: a fair and equitable benefit sharing regime, including monetary and non-monetary benefits, for marine genetic resources of areas beyond national jurisdiction and digital sequence information on marine genetic resources that ensures all humanity for generations to come will benefit from utilisation of those resources and information; an inclusive transparent consultative process guided by science for the establishment of area-based management tools, including marine protected areas; a robust threshold and transparent process for the conduct of environmental impact assessments, with global oversight for activities that may be allowed and an agreed decision-making standard for activities that should not be allowed; adequate, accessible, sustainable and predictable financing to support implementation of the BBNJ Agreement while delivering capacity-building and the transfer of marine technology to developing countries, in particular for SIDS and be responsive to their needs and priorities; additional funding arrangements for a liability mechanism; an effective framework of institutional arrangements that will support the provisions of the Agreement and ensure decision making based on the best available scientific information and incorporate the traditional knowledge of Indigenous peoples and local communities, facilitate effective capacity building and transfer or marine technology, and ensure the required generation of, access to, and use of funding towards the aims of the BBNJ Agreement; and finally; due recognition of the special circumstances of SIDS as an operational principle of the Agreement. CARICOM welcomes the conclusion of the intergovernmental conference and the adoption of the ocean biodiversity treaty. It takes note with appreciation that the provisions of the treaty have met the region's core objectives. Importantly, CARICOM recognizes that this new treaty lays a formidable foundation for the fair, equitable and sustainable use of the ocean and its resources in areas beyond national jurisdiction. CARICOM will begin consideration of the next steps to become a party to the treaty and looks forward to the continued support of the international community in bringing the treaty into force and effect, and promoting its universality.

The Caribbean Community (CARICOM) remains deeply concerned that human actions, including the emissions of greenhouse gases, have led to the rapid ongoing decline of marine ecosystems from coastal to deep sea, with particularly acute and large historical losses in coastal marine ecosystems. The Community is also concerned that the human influence on the degradation and alteration of the world's ocean will continue for centuries and millennia even after damaging activities such as emissions cease. CARICOM is alarmed at the scientific findings that Small Island and Low-lying Coastal Developing States (SIDS) will be disproportionately impacted and suffer significant loss and damage as the state of the ocean and their surrounding marine environments worsen. This is very concerning given that the ocean and the ecosystem services that the marine environment provide are essential to planetary sustainability and to human survival, and can play a critical role in the achievement of global climate goals, healthy and wholesome societies, as well as sustainable economies. The Region is resolved to promote and to contribute to the development of policies for the protection of and the preservation of the marine environment and sustainable development, in furtherance of our regional commitments under the Revised Treaty of Chaguaramas, and our global commitments emanating from 2030 Agenda for Sustainable Development, the United Nations Decade of Ocean Science for Sustainable Development 2021 – 2030, the Paris Agreement, and the Kunming-Montreal Global Biodiversity Framework. While ocean knowledge is developing, it is not comprehensive and therefore not actionable, and therefore actions must be based upon the precautionary principle. Additionally, there is limited understanding of the high seas which make up nearly two-thirds of the world's oceans, cover nearly half of the earth's surface and comprises some of the most biologically important, yet least protected and most critically threatened ecosystems in the world. This creates a governance gap in high seas protection, and this gap engenders a critical lack of consistent and effective oversight of marine areas beyond national jurisdiction. CARICOM underscores the importance of the guiding principle of equity and sharing of both benefits from and responsibilities for, areas beyond national jurisdiction, since different countries and regions have differing needs, priorities and capacities. In light of the foregoing, the Caribbean Community (CARICOM), representing both Small Island and low-lying coastal Developing States that are integral to and dependent on the Caribbean Sea and the wider Atlantic Ocean: Welcome the resumption of the intergovernmental conference to conclude an international legally binding instrument for the conservation and sustainable use of marine biodiversity of areas beyond national jurisdictions (BBNJ Agreement) Underscore that the BBNJ Agreement should establish an ambitious framework for the conservation and sustainable use of marine biological diversity of areas beyond national jurisdiction, with a view to enabling equity and effectiveness, and to this end support: a fair and equitable benefit sharing regime, including monetary and non-monetary benefits, for marine genetic resources of areas beyond national jurisdiction and digital sequencing information on marine genetic resources that ensures all humanity for generations to come will benefit from utilisation of those resources and information; an inclusive transparent consultative process guided by science for the establishment of area-based management tools, including marine protected areas; a robust threshold and transparent process for the conduct of environmental impact assessments, with global oversight for activities that may be allowed and an agreed decision-making standard for activities that should not be allowed; adequate, accessible, sustainable and predictable financing to support implementation of the BBNJ Agreement while delivering capacity-building and the transfer of marine technology to developing countries, in particular for SIDS and be responsive to their needs and priorities; additional funding arrangements for a liability mechanism; an effective framework of institutional arrangements that will support the provisions of the Agreement and ensure decision making based on the best available scientific information and incorporate the traditional knowledge of Indigenous peoples and local communities, facilitate effective capacity building and transfer or marine technology, and ensure the required generation of, access to, and use of funding towards the aims of the BBNJ Agreement; and finally; due recognition of the special circumstances of SIDS as an operational principle of the Agreement. Urged United Nations member states to work in the spirit of cooperation and to conclude negotiations on the Agreement at the fifth resumed session; and Affirmed CARICOM's unswerving commitment to attain an ambitious, inclusive, and just BBNJ Agreement as an effective mechanism for good governance of areas beyond national jurisdiction for the benefit of all states and both present and future generations. Nassau, The Bahamas 17 February 2023

CARICOM delegates head to Montreal, Canada, for the Fifteenth Conference of the Parties United Nations Convention on Biological Diversity (UNCBD) (COP15) gearing up to create targets on biodiversity for the next decade. The Conference, from December 7-19, will be held under the Presidency of China. Importantly, the post-2020 Global Biodiversity Framework (GBF) is expected to be adopted during this second phase of the conference. Over the last six months, the CARICOM Secretariat under the Capacity Building Related to Multilateral Environmental Agreements (ACP MEAs) Phase III Project worked with the Caribbean Biodiversity Focal Points and other partners to prepare for effective participation in the negotiations and other priorities under the Convention. The ACP MEAs Project is an initiative of the Organisation of African, Caribbean and Pacific States funded by the European Union. Biodiversity framework Biodiversity is the foundation of the global economy. More than half of global GDP – equal to US$41.7trillion – is dependent on the healthy functioning of the natural world. Ninety-five per cent of the food we eat is produced in the soil, yet up to 40% of the world's land is severely degraded by unsustainable agricultural practices. Eighteen percent of total GDP for most CARICOM countries comes from agriculture. Our current reality sets a challenge before us that are well known as we continue to grapple with our economic, social and environmental vulnerabilities. It is timely as a Community that we re-examine our relationship with nature recognising that, despite all our advances we will always remain dependent on healthy and vibrant ecosystems for our water, food, medicines, clothes, fuel, shelter and energy. International conflict continues to exacerbate the existing food, energy, climate and finance crisis. Here in the Caribbean, we are feeling the consequences of this conflict, deriving even more urgency in our actions to be more food and energy secure in a way that is in harmony with the Caribbean's unique biodiversity. The CARICOM Secretariat used this year as an optimal opportunity to promote an urgency of action at the highest levels, in support of a post-2020 biodiversity framework that will contribute to the re-shaping of the Region's vision for biodiversity. CARICOM's Delegates and Biodiversity Focal Points heading to COP15.2 share their expectations for the upcoming meetings: Antigua and Barbuda's delegation: From left, Dr. Helena Jeffrey Brown, Technical Coordinator, Mrs. Kishma Primus-Osmond, Biosafety Specialist and Ms. Nneka Nicolas, Legal Consultant Antigua and Barbuda "In anticipation for the upcoming meetings in Montreal in December, Antigua and Barbuda emphasises the importance of having a Global Biodiversity Framework that takes into account the vulnerabilities of the Small Island Developing States. We are seeing increasing destruction in our islands that can be directly linked to the loss of critical biodiversity and ecosystems. While we are hopeful that the GBF can be finalised, we also note that without adequate financing, resource mobilisation, capacity building and technology transfer as well as a sufficient means of implementation, the GBF will not be effective in halting and reversing biodiversity loss. Access to these resources via the GBF will support our capacity to collect data consistently which would inform which activities are effective to implement targets under the GBF. We also hope to see the finalisation of the recognition of Digital Sequencing Information (DSI) as a genetic resource. We will, at this meeting, insist on the retention of the language related to DSI in applicable goals and targets or the GBF as well as the finalisation of a Benefit Sharing Mechanism allowing developing countries to benefit from the utilisation of their genetic resources including DSI." The Bahamas Mrs. Samantha Miller-Cartwright, Senior Environmental Officer of the Bahamas "The Bahamas, like most countries in the Caribbean region, possess some of the most unique terrestrial and marine ecosystems in the world. We identify with many of the issues met by our regional counterparts, in that we are most susceptible to biodiversity loss, and other negative impacts that plague our natural environment and most sensitive ecosystems. The Bahamas seeks to demonstrate a sustained willingness for dialogue during these negotiations in order to reach consensus, which we hope is reached by the end of COP-15. It is our hope that we arrive at a Global Biodiversity Framework (GBF) that guides us toward the 2050 vision. The Bahamas fully supports a Post 2020-GBF with goals and targets that are clear, concise and achievable by all Parties. We also wish to see a GBF that fully incorporates the guiding principles of the Convention, but also integrates and captures the regional and national priorities and circumstances of each Party. For us, the most critical discussions revolve around: means of implementation, resource mobilisation, access and benefit sharing, capacity building and technology transfer, technical and scientific cooperation, impacts to local communities, and the active role of women and youth in biodiversity, among other necessary enabling conditions. We have concluded rounds and rounds of negotiations on the GBF in Nairobi, Kenya and in Geneva, Switzerland. Therefore, The Bahamas is hopeful that negotiations at COP-15 will be productive and results are resolute, impartial and meaningful. The Bahamas recognises and understands that Biodiversity is declining and actions should be taken by all Parties to ensure there are no delays in the adoption of the Post-2020 GBF, as it will set us on a path towards achieving the 2050 vision of "Living in Harmony with Nature". Grenada Mrs. Aria R. St Louis, Head of Environment Division, Grenada "We need for a balanced outcome that reflects the progress done with the post-2020 Global Biodiversity Framework and work programme under all three pillars of the Convention (Conservation, Sustainable use and Access and Benefit Sharing)", Grenada's Senior Delegate Aria St Louis posits. The Region remains concerned about implementation and in this light, unpacking "means of implementation" and access to resources will be a key part of the discussions and draft decisions being tabled. Means of implementation raises discussions on the gap in biodiversity finance which was identified as a stumbling block to achieving the Aichi targets. Climate is a driver of Read more…